Wedding photographer Toronto
I understand that selecting a wedding photographer can be challenging. To streamline your search, please take a moment to explore my portfolio and familiarize yourself with the service costs for the 2024 season. If you're curious about the special benefits and bonuses I offer for brides, simply scroll down for more information >>>
Let's get to know each other
I'm Bogdan Danyluk, a wedding photographer who finds immense joy in capturing the emotions of positive couples. Collaborating with my wife, Yuliia, we strive to ensure that both the journey and the outcome of our work bring you the utmost satisfaction. I place particular emphasis on wedding preparation – during our meetings, we meticulously outline the day's plan, discussing every detail from the bride's morning preparations to the cake-cutting ceremony.
Moreover, I believe in the importance of delivering your cherished moments promptly. You can expect all your photos to be ready within just 14 days. Additionally, I have a passion for travel and am more than happy to bring my skills to capture your special moments, no matter the location!
Why am I your wedding photographer?
A detailed plan of the wedding day
Be calm, because every detail is agreed in advance
Packages of photo services are available to every couple
Each picture is in pure and natural colour
Comfortable time of readiness of pictures
I process and deliver photos within 14 calendar days
Express photo for the next day
You will be able to share the best wedding photos "tomorrow" =)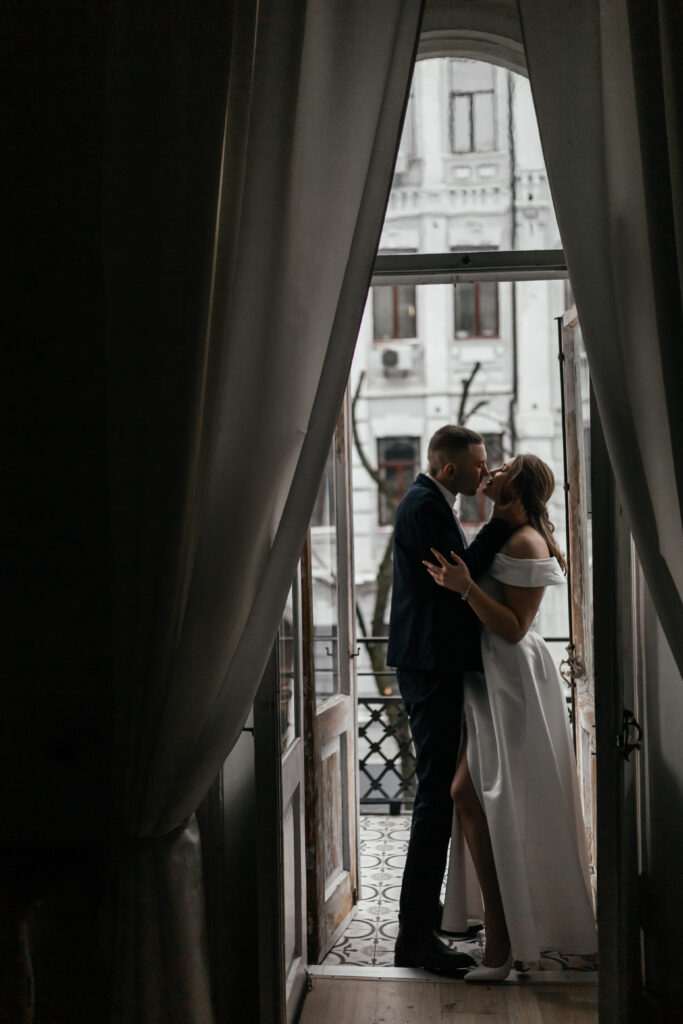 Portfolio
I embarked on my journey as a wedding photographer in 2009, and since then, I've witnessed changes in cameras, explored different cities and countries, and undergone personal growth. However, the one constant is the genuine and authentic moments captured in my photos. I invite you to cherish and relive these timeless moments with me. Enjoy the memories!
How does our cooperation work?
Step 1
Submit your application on the website
Step 2
I'll give you a call back to discuss the details of your wedding
Step 3
We organize a photo session, and you can expect to receive the finalized pictures within 14 days
And what do my couples say?

Bohdan is truly an exceptional photographer – a seasoned professional with a warm, kind, and responsive demeanor. I was quite nervous leading up to the wedding, and on the big day, excitement had me trembling. Bogdan played a crucial role in helping me manage those nerves. This ability is incredibly important in a photographer, especially during the whirlwind of wedding preparations when everyone is bustling around with their own set of nerves. The photos turned out not just good but stunningly beautiful and vibrant! They beautifully captured the emotions of all the celebration's participants. We find ourselves constantly drawn to them, contemplating where to display each one in our home. Although we took a multitude of photos, it felt like time slipped away unnoticed, leaving us craving more. Alas, it was time to head to the restaurant. I'm already eager to repeat such a photo session, perhaps in the form of a love story or for another wedding! A heartfelt thank you to Bogdan for his support, an unforgettable photo session, and the creation of such breathtaking photos! HIGHLY RECOMMEND!!! 😊

We wholeheartedly recommend wedding photographer Bohdan Danyliuk to everyone. Right from our initial interactions, we felt assured that we had made the perfect choice. His business approach, consistently warm attitude, and genuine interest in every aspect of our wedding were truly gratifying. Throughout the preparation and on the wedding day itself, Bohdan demonstrated true professionalism. He provided valuable advice and approached every detail with a high level of responsibility. What stood out most was his individualized approach and sincere commitment to capturing interesting, original, and high-quality pictures. The photos showcased on his website truly speak for themselves! We were not only pleased with the entire process but also thrilled with the results of working with Bohdan. The photos surpassed all our expectations. Bogdan, a heartfelt thank you for your exceptional work!
I've had the pleasure of working with Bogdan on multiple occasions, and I have never been disappointed with the outcome of his work. This unequivocally makes Bodya a wonderful photographer! That's precisely why my husband and I chose Bogdan as our wedding photographer—we were confident that the photos would be nothing short of the best. Bohdan has a remarkable ability to adapt to everyone, making the most of every moment. He doesn't waste time and is always in active motion, seeking out great perspectives for vibrant photos. It's clear that Bogdan is a true professional in his field. Many thanks for your dedication; you truly excel at what you do!
Over a year has passed since our wedding, and we still find ourselves captivated by the photographs captured by Bohdan. They are truly wonderful, gentle, and touching—real works of art! Bohdan is not just an excellent professional; choosing him ensures more than just beautiful photographs. He brings forth a plethora of interesting ideas for the photo shoot, helps with accessory preparation, and, overall, demonstrates a highly responsive and approachable nature. You can reach out to him with any question or concern. Bohdan, thank you once again for preserving the memories of our special day so beautifully in your photographs!
Bohdan, from the very beginning of our journey together, your sincere, romantic, and lively photos made it clear that we had found more than just a photographer—we had found a friend. The wealth of ideas, plans, and advice you shared transformed our experience. After our first meeting, you seamlessly became a cherished part of our journey. The moment we laid eyes on the first photos, our emotions overflowed. That indescribable feeling of revisiting them repeatedly, unable to choose a favorite. We extend our heartfelt gratitude to you, not only as a skilled professional but as someone who played a significant role in preserving the magic of "The Birthday of the Bondarevsky Family." Thank you for an exceptionally well-done job.
I'm truly delighted that I chose Bohdan to immortalize the happiest day of our lives! The wedding photo session was absolutely fantastic; the colours and quality are amazing, even though we had very little time. Bogdan didn't take a moment's rest and put in his utmost effort every step of the way, demonstrating true professionalism. Despite the challenges of such an exciting day, Bohdan radiated mega positivity. Thank you for capturing our memories so beautifully!
If you are faced with a choice of which wedding photographer to choose, you are looking through many portfolios, but you just can't decide, because you doubt who to entrust one of the most intimate days of your life, we definitely advise you to contact Bogdan! For us, wedding photographs are precious moments in history, the beginning of our life together, and it is important for us that these moments are captured with dignity. We confidently confirm that Bogdan is a professional in his field. Thank you for your professional approach, for your optimism, for your ideas and for the emotions of delight that overwhelmed us when we saw our photographs. Thank you!!!!!
A little over a month has passed since you photographed our wedding. It was fantastic, the photos are fascinating because you can see the action and us alive in these photos, it was really difficult to choose photos for the album, but you helped us with that too!! It's a pleasure to communicate with you before, during and after the wedding. Everything we agreed on happened and even more. You were ready to meet us. It's valuable. We are glad that you were with us on our wedding day. We remember you with warmth. Thank you!!!
Bogdan, thank you very much for your work at our wedding! Even though the rain didn't allow you to photograph us the way you wanted, everything was just super!!! You're just great for preparing plan B)) And the hotel and studio that you recommended to us look simply gorgeous in the photographs! We are sure that we will cross paths many, many times again and really hope that you will film all the valuable moments of our life together!!! Overall, THANK YOU THANK YOU THANK YOU!!!

In the summer, Bohdan did a wedding photo session for us, the organization and quality of the shooting were at a high level. Bohdan very skillfully advised the guests where and how to stand for a good photo and the process itself was not boring and long. I also liked that we signed a contract where all the terms of cooperation were specified and the photos were ready in 2 weeks. I highly recommend ordering a photo book right away - some great ones! I advise everyone to contact Bohdan for good photos and pleasant cooperation.